Plaxel has a strong team of industry professionals operating in the following practice groups:
Luxury goods
FMCG
Automotive
Electronics
Secondary/supportive/
manufacturing

| | |
| --- | --- |
| | Telecom |
| | Software |
| | Semiconductors |

| | |
| --- | --- |
| | Medical devices |
| | Pharmaceuticals |
| | Health care |

Most executive search firms that address the issue of how they approach the search process come up with something like this: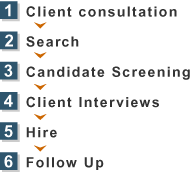 We do this too.
But we believe this is not an approach so much as a process. All executive search firms should be adhering to this sequence of activities as a foundation for their business.
Our approach - or what sets up apart - is the professionalism, focus, mind set, and sense of urgency that we bring to each step in the process.

Communication is the key factor here. We listen to your requirements for a specific position, and put this into a larger context of where you want to take your business in this market. We identify key performance indicators and do our utmost to discover what makes your business tick.
Consultation is ongoing throughout the hiring process. If a candidate we introduce is not suitable for some reason, we are happy for the opportunity to learn why so that we can further refine the search and get it right.


We don't rely solely on our large database of screened candidates to meet your needs. We get on the telephone and talk to people. Conducting a specific search is not unlike an Easter egg hunt: There are only so many eggs, and we work with a sense of urgency to collect as many as possible in the shortest time frame.


Candidate screening is the critical step in the process. Skills, experience, presentation, character, drive, intelligence, intuitiveness, creativity, management ability, key strengths and weaknesses...we pay attention to the candidates we meet and conduct detailed reference checks to confirm our assessment.
As much as possible, we work to avoid surprises. Our reputation depends upon it, and our business depends upon our reputation.


So, how did it go?
The interview stage is a part of the ongoing client consultation. We work intimately with the client and candidate during this stage to fill in any gaps, facilitate communication and understanding, and further refine our knowledge of the client's current needs and company culture.


We work diligently to ensure that an equitable package is negotiated successfully and ensure that the candidate has a smooth transition into his new role.


How is the candidate settling in? We do our best to ensure that our candidates exceed client expectations, and maintain communication with both sides to address any issues before they become problems.